A History of Dallas Theological Seminary
Founding and Growth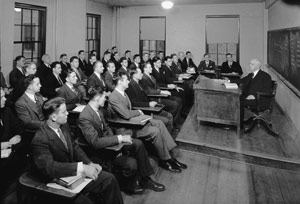 In the fall of 1924 the first student body of Dallas Theological Seminary met to study under the noted Bible teacher, Dr. Lewis Sperry Chafer. This class of thirteen students was the result of Dr. Chafer's burden and vision to found a seminary that would emphasize expository preaching and teaching of the Scriptures.
In 1935 the Seminary pioneered the four-year Master of Theology (ThM) degree, which is a year longer than the three-year Master of Divinity (MDiv) offered at most other seminaries. The ThM gives all the essential theological courses offered in a three-year curriculum with additional emphasis in systematic theology, Hebrew and Old Testament exegesis, Greek and New Testament exegesis, and Bible exposition.
In 1974 the Seminary instituted the two-year Master of Arts (MA) program in Biblical Studies for students whose ministries would not require the in-depth language training of the ThM program. The Doctor of Ministry (DMin) degree began in 1980 to provide further pastoral training for seminary graduates to meet the changing demands of ministry. In 1982 the Seminary began the MA in Christian Education so students could receive specialized training for Christian ministries. In 1987 the MA program in Cross-cultural Ministries was inaugurated to give specialized missions training. In 1993 the Seminary launched a three-year MA in Biblical Counseling and a two-year MA in Biblical Exegesis and Linguistics. The latter program is offered jointly with the Graduate Institute of Applied Linguistics located in south Dallas.
Outstanding leadership and scholarly expertise have characterized the Seminary's presidents: Dr. Lewis Sperry Chafer (1924–52), Dr. John F. Walvoord (1952–86), Dr. Donald K. Campbell (1986–94), and Dr. Charles R. Swindoll (1994-2001), and Dr. Mark L. Bailey (2001–).
Throughout the Seminary's history it has steadfastly maintained its allegiance to biblical truth. A Doctrinal Statement articulates the beliefs of Dallas Theological Seminary, and each year the faculty and members of the boards reaffirm their agreement with this statement.
Historical Milestones
2016

DTS en español

2015

Master of Biblical and Theological Studies (MBTS)

2014

Reaffirmation of accreditation with both SACSCOC and ATS for 10 years

2013

Approved fully online MABS degree
Offered all students Logos Bible Software
Established Mobile Seminary program

2011

Master of Arts in Christian Leadership (MACL)

2010

Dedication of the Miller Prayer Chapel
Washington, DC extension program established

2009

"Marriage and Family" DMin cohort established
Knoxville initiative
Certificate of Graduate Studies completion program for non-graduate alumni

2008

Washington Hall single-student apartment complex completed
"Women in Ministry" DMin cohort established

2006

First online course in Chinese offered

2005

Campbell Academic Center renovated
Master of Arts in Media and Communication (MAMC) degree program
Approval by ATS to offer the full ThM and MACE programs in Houston

2004

Online education program
Approval by ATS to offer the full MACS degree at Atlanta and Austin extensions
DMin program in Spanish offered through SETECA
Chafer Chapel renovated

2003

Reaffirmation of accreditation with both SACS and ATS for 10 years

2002

Swiss Tower student apartment complex completed

2001

Mark Bailey became fifth president

1999

Reaffirmation of Accreditation with ATS for 10 years
Atlanta and Austin extension programs

1994

Charles Swindoll became fourth president
Tampa extension program established
Accredited by Association of Theological Schools

1993

Houston and Chattanooga extension programs established
Master of Arts in Biblical Counseling
Master of Arts in Biblical Exegesis and Linguistics program
ThD nomenclature changed to PhD

1992

Christian Education in DMin program

1991

Certificate of Graduate Studies program started

1990

Joined Association of Theological Schools

1988

San Antonio extension program established

1987

Master of Arts in Cross-cultural Ministries program

1986

Donald Campbell became third president
Center for Christian Leadership established

1981

Master of Arts in Christian Education program started

1980

Doctor of Ministry program started

1970

Summer School program launched
Master of Arts in Biblical Studies program

1969

Accredited by Southern Association of Colleges and Schools
Name changed to Dallas Theological Seminary

1960

Mosher Library erected

1953

Chafer Chapel construction completed

1952

John F. Walvoord became second president

1936

Name changed to Dallas Theological Seminary and
Graduate School of Theology

1935

Master of Theology (ThM) program started

1934

First issue of Bibliotheca Sacra published on campus

1927

Davidson Hall, first permanent building, erected
Doctor of Theology (ThD) degree program initiated

1926

Current campus site purchased

1925

Doctrinal statement officially adopted

1924

Evangelical Theological College established
Lewis Sperry Chafer became first president