The Doctor of Philosophy degrees are designed for those who are capable of doing research at the highest level with a view to becoming scholars and educational leaders in various fields of Christian ministry.
Educational Goals
To enable students to:
do in-depth research in both primary and secondary sources relating to their chosen field of study
understand and critique the major issues in their chosen field and the main views on those issues
articulate conservative, evangelical theology.
Spiritual Goal
To enable students to manifest a maturing and Spirit-filled character.
Ministry Goals
To enable students to:
demonstrate ability and acceptability in Christian ministry
communicate effectively through one or more of the following: preaching, teaching, evangelism, writing.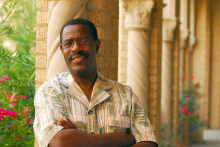 Dr. Musekura is the President and Founder of the African Leadership And Reconciliation Ministries (ALARM, Inc.), a growing ministry training church leaders and community leaders in Burundi, Congo, Kenya, Rwanda, Sudan, Tanzania, Uganda, and Zambia. In 2007 he completed a PhD in Theological Studies.