The program leading to the Doctor of Philosophy degree is designed for those who are capable of doing research at the highest level with a view to becoming scholars and educational leaders in various fields of Christian ministry.
Goals
Educational Goals
To enable students to:
develop skills of critical thinking and reflection;
acquire a suitable mastery of the content of their chosen eld of study;
evaluate major issues and scholarly views within their academic discipline;
engage in reliable independent research, using relevant primary and secondary sources; and
contribute to biblical and theological research.
Spiritual Goal
To enable students to:
manifest traits of personal integrity, character, and spirituality.
Ministry Goals
To enable students to:
communicate effectively through writing and teaching and
demonstrate ability and acceptability for Christian ministry.
Request Info
Additional optional info:
skip
Thanks! We'll be in touch shortly. And please feel free to contact us at admissions@dts.edu or 800-3-DALLAS
Teach Truth. Love Well.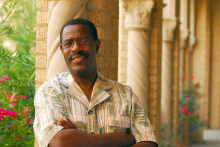 Dr. Musekura is the President and Founder of the African Leadership And Reconciliation Ministries (ALARM, Inc.), a growing ministry training church leaders and community leaders in Burundi, Congo, Kenya, Rwanda, Sudan, Tanzania, Uganda, and Zambia. In 2007 he completed a PhD in Theological Studies.