Day at DTS | Dallas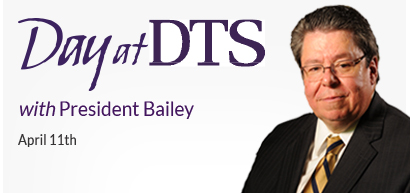 Day at DTS is a campus preview event for prospective students and their spouses. You can experience a day of classes, chapel, and even lunch with faculty members. We would love to have you as our guest. Register online or by calling (800) 332-5527.
Day at DTS Sample Schedule
7:45am
Registration and Orientation Breakfast
8:10am
Introduction to Dallas Theological Seminary
8:30am
"Why Seminary? Why DTS?" Presentation
9:10am
Attend Class or
Meet with an Admissions Counselor
10:40am
Chapel
11:30am
Q&A with Special Guest
12:00pm
Lunch with Faculty
1:00pm
Attend Class or
Meet with an Admissions Counselor
2:30pm
Advising 101
3:00pm
Free Time or DTS Heritage Tour
3:30pm
DTS Connection
4:30pm
Day at DTS Concludes
Have someone contact me
Thanks! We'll be in touch shortly. And please feel free to contact us at admissions@dts.edu or 800-3-DALLAS
Teach Truth. Love Well.