Day at DTS | Dallas
Upcoming Dates
October 16, 2015
November 13, 2015
Registration will open in the fall. Contact us to schedule an individual visit this summer!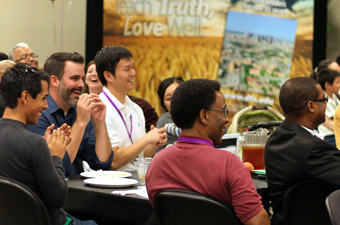 Are you considering Seminary, but haven't yet had a chance to visit our Dallas campus? Join us for one of our Day at DTS events!
Sample Day at DTS Schedule
7:45am
Registration and Orientation Breakfast
8:10am
Introduction to Dallas Theological Seminary
8:30am
"Why Seminary? Why DTS?" Presentation
9:10am
Attend Class or Meet with an Admissions Counselor
10:40am
Chapel
11:30am
Q&A with chapel speaker
12:00pm
Lunch with Faculty
1:00pm
Attend Class or Meet with an Admissions Counselor
2:30pm
Advising 101
3:00pm
Free Time or DTS Heritage Tour
3:30pm
DTS Connection
4:30pm
Day at DTS concludes
Have someone contact me
Thanks! We'll be in touch shortly. And please feel free to contact us at admissions@dts.edu or 800-3-DALLAS
Teach Truth. Love Well.