Publications
Dallas Connection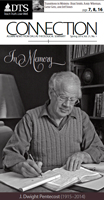 This tri-annual publication for the DTS alumni family includes articles of ministry significance, announcements, resources, and updates.
Connection Extra
These short booklets cover the Seminary's stand on various topics, from dispensationalism to the role of women in the church.
Alumni eNews
The monthly eNews updates alumni on upcoming events and other resources.
Alumni Directory
Alumni directory information can be accessed online through our secure website. You may also update your information online.
Booklets
Ministry Resources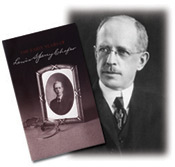 Publications of the previous Association of Evangelical Ministers are now available as resources to all alumni.
The Early Years of Lewis Sperry Chafer
Dr. John Hannah, distinguished professor of Historical Theology and research professor of Theological Studies, paints an intimate portrait of Dallas Seminary's founder and first president, Lewis Sperry Chafer.
1984 Class Chapel: Fiddler at the Desk