Alum Stan Giles Ministers in Antarctica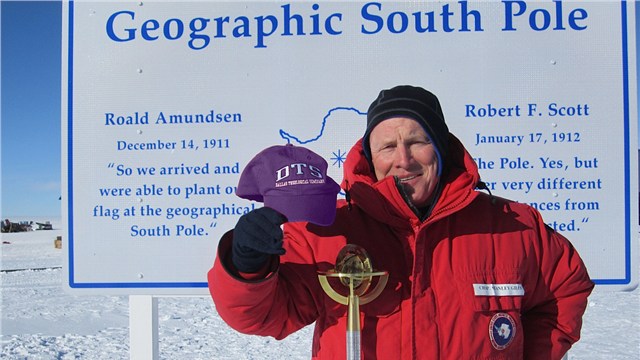 DTS graduates have ministered in all fifty states and 103 countries on six continents—until now. This year, Stan Giles (ThM 85, watch his chapel message, "Is Just War Just?") served a two-month stint in Antarctica in his role as chaplain in the Air National Guard. During that time, he lived at McMurdo Station support base on the New Zealand side of Antarctica.
Antarctica?
The United States originally developed McMurdo Station in the late 1950s to support research on the continent. It expands from about 250 people who "winter over" every year to about a 1,000 in the height of the summer (November—January). These scientists, engineers, and support personnel carry out research at dozens of small, remote camps throughout western Antarctica. Military members join them to maintain and fly the cargo planes with specially equipped skis—the only way to access the remote areas of the continent.
As Stan pointed out, "The continent of Antarctica is about one and a half times the size of the continental U.S. and is the highest, driest, coldest, and certainly the most remote part of the world. There is no vegetation and only seals and penguins live here along the edges. It is like no place on earth!"
The Air Guard traditionally provides chaplain coverage but this role is unique among military deployments. The chaplains don't wear a uniform and intentionally serve both the civilian and military communities.
A Unique Ministry to a Unique People
"It's an interesting mix of people—there are scientists whose research brings them here. Support personnel of every sort come year after year—for whom, this is their extended circle of friends and family. There are the adventurers who come and work in necessary, menial jobs. Many are very well educated, who come mostly for the pure adventure!" Stan writes.
Ministry in such a unique community challenged Stan. While the military community understands and appreciates the work of a chaplain, the civilian community is welcoming but certainly less aware of a chaplain's role.
While there, he wrote of his new community, "As a whole they are a very social group and naturally inquisitive. They tend to easily engage in conversation. Much of my ministry was visiting and sitting with them during mealtime, inquiring of their lives and jobs. I found it fascinating to hear some of the stories telling what brought them to Antarctica. These conversations developed into deeper discussions about life, goals, and God."
"When I hosted worship services, I was aware this was undoubtedly the most southern church service in the world. My first week there I preached from Psalm 139, reflecting on how we can never flee from the presence of God." With his training from DTS, Stan has lived out taking the Lord's gospel "even to the remotest part of the earth"—literally.
To see where other DTS graduates are serving, visit our Alumni Global Map.