Global Proclamation Congress 2016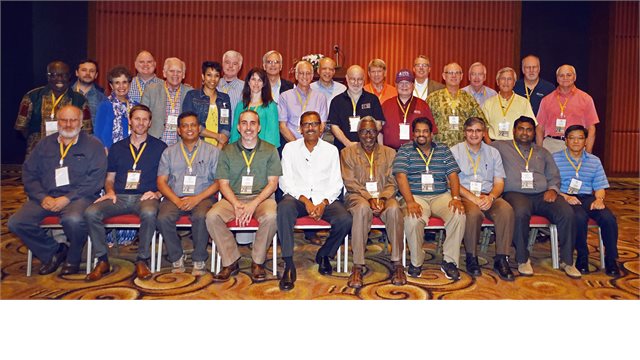 DTS Alumni from all over the world and more than 3,000 church leaders, including pastoral trainers from 120 countries, participated at the Global Proclamation Congress held at Impact Center in Bangkok from June 15–22, 2016. This year's theme was "accelerating church health worldwide" and it focused on the health of the pastors, churches, and societies. The congress was convened by the Ramesh Richard Evangelism and Church Health (RREACH).
Dr. Richard believes "every event starts the day after," and so now GProCongress truly begins. As a result of the GProCommission, 100,000 pastors and 20,000 more pastoral trainers will be ministering in 200 countries by 2020. The GProConneXt platform will connect, unite, and strengthen GProCongress's participants during the four years of follow-up, and that implemented strategy will prove successful in promoting long-term pastoral health. More than 92,000 pastors will be trained in the next twelve months. GProCongress and its ongoing connections will act as a conduit between formal and non-formal training practitioners, strategists, and funders. It will open up new opportunities to address key ministry challenges, champion best practices, and grow strategic affiliations, all while highlighting new opportunities for ministry. Individual pastoral trainers will learn, receive, connect, reflect, envision, and plan for the next season of their lives and ministries. All participants will follow through with their commitments to train, on average, twenty-five pastors a year for the next four years. For the 872 pastoral trainers who did not make it due to visa and financial barriers, they will be connected to attendees through the GProConneXt platform and will be able to help with the multiplication process. There will be seventy-five national GPAs to be held in the next four years. Please pray that many would be moved to give towards the funding needed to organize them.
Collaborators of this congress included Ramesh Richard Evangelism and Church Health (RREACH); Lausanne Movement; World Evangelical Alliance (WEA); Trainers of Pastors International Coalition ( TOPIC); One Challenge (OC); Dallas Theological Seminary; Langham Partnership; CRU.; Asia Access; World Reformed Fellowship; Leadership Resources; Biblical Education by Extension (BEE World); Global Alliance for Church Multiplication (GACX); and International Council for Evangelical Theological Education (ICETE).
Alumni pictured: Ron Man (ThM, 1982; DMin, 2009), Jonathan Dove (ThM, 2003), Dr. William J. Subash (STM, 2001; PhD, 2009), Dr. Mark Yarbrough (ThM, 1996; PhD, 2008), Dr. Ramesh Richard (ThM, 1979; ThD, 1982), Dr. Abel Ndjerareou (PhD, 1995), Aaron Samuel (ThM, 2005), Dr. Milad Dagher (ThM, 2000; PhD, 2013), Samuel Rajkumar (ThM, 2009), Dr. Sam Chia (ThM, 1994; PhD, 2003), Sem Beasnael (ThM, 1994; MACE, 1994), Dr. Bill Lawrence (ThM, 1964; ThD, 1968), Ariel Orr (MABS, 2016), Kelli Sallman (MABS, 2001), Dr. Scott Cunningham Sr. (ThM, 1980; PhD, 1994), Dr. Darrell Bock (ThM, 1979), Dr. Bruce Fong (ThM, 1978), Dr. Rick Calenberg (ThM, 1972), Dr. Paul Nyquist (ThM, 1981; PhD, 1984), Afrim Karoshi (MABS, 2009; MACM, 2014), Mike Redeker (MABS, 2000), John M. Balmer, Jr. (ThM, 1982), Dr. Imad Shehadeh (ThM, 1986; ThD, 1990), Dr. Rodney Orr (ThM, 1990), Dwain Camp (ThM, 1977), Dr. Rick Reed (ThM, 1985), Neil Curran (MABS, 1994), Chuck Gianotti (ThM, 1983).