Master of Arts in Biblical Exegesis and Linguistics (MA/BEL)
The MA/BEL program, which provides instruction in Bible translation, is designed for missionary recruits, furloughing and in-service missionaries, and translation support personnel. Offered jointly with the Graduate Institute of Applied Linguistics (GIAL), the program fulfills the minimum requirements for the first term of service with Wycliffe Bible Translators.
Curriculum
| | |
| --- | --- |
| Area of Study | |
| Theological and Biblical Foundations | 14 |
| Greek and Hebrew | 24 |
| Translation Training | 24 |
| | 62 |
Partner Organizations
| | |
| --- | --- |
| | |
| Offered jointly with the Graduate Institute of Applied Linguistics (GIAL) | Fulfills the minimum requirements for the first term of service with Wycliffe Bible Translators. |
Meet an MA/BEL Professor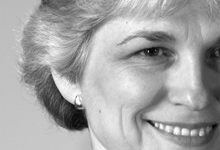 Dorian Coover-Cox

Dr. Cox, Assistant Professor of Old Testament Studies, originally came to the Seminary to become a better editor; she found, however, that what she enjoys most about editing is helping people learn.
Goals
Educational Goals
To enable students to:
exegete the Hebrew and Greek texts of the Bible
form a basic theological foundation as a grid for Bible translation
apply basic principles of hermeneutics in Bible study and Bible translation
engage in collaborative work with speakers of minority languages record an unfamiliar language using the International Phonetic Alphabet (IPA) apply basic principles of hermeneutics in Bible study and Bible translation
employ computational tools to construct a phonological analysis, descriptive grammar, partial lexicography, and interlinear text of a minority language
discover his/her language learning style and practice various language learning methods
conduct and record participatory observations in a cross-cultural setting.
Spiritual Goals
To enable students to:
evidence an increasing likeness to Christ as manifested in love for God, love for others, and the fruit of the Spirit
evidence commitment to world evangelism
evidence an awareness of spiritual conflict and the resources in Christ.
Ministry Goals
To enable students to:
translate the Bible effectively in a cross-cultural context
produce an accurate profile of the chosen country or area of the world
design an effective strategy for cross-cultural ministry.
Details
Admissions Requirements
The application process for the MA/BEL is a dual process. Applicants for the program must apply to both Dallas Seminary and the Graduate Institute of Applied Linguistics (GIAL), and the admission requirements of both institutions must be met. In most cases students admitted to DTS will meet the admission requirements at GIAL. However, prospective MA/BEL students should be aware that the requirements for linguistic courses at GIAL vary and may include the completion of all or a portion of the 27-hour Certificate of Applied Linguistics (6 of the 27 hours in two courses, AL5207 and AL5406, will apply toward the MA/BEL) or its equivalent. Students must complete all GIAL course prerequisites before matriculating at DTS.
Students are strongly advised to complete all GIAL coursework before beginning DTS coursework. However, until they apply to DTS for admission to the program, they will not be officially enrolled in the MA/BEL program. Students are advised to contact both institutions as soon as possible regarding their intentions to enroll in the MA/BEL program so that adequate advice and direction can be provided. There is a seven year time limit on completing any professional MA program.
Transfer Credits
Transfer of some credit is allowed toward the professional MA programs from accredited graduate theological schools.
No more than 30 hours of course work from institutions outside of Dallas Theological Seminary and GIAL will be transferred toward the MA in Biblical Exegesis and Linguistics. For purposes of transfer consideration, course work from GIAL will not be part of the 30-hour transfer limit. Some provision will be made for students to transfer work from the Jerusalem University College to the MA in Biblical Exegesis and Linguistics program. Entering students with missions experience in Bible translation may be eligible for advanced standing.
Students must have earned a grade of C or better for a course to be considered in transfer. Transferability of credits earned at this institution and transferred to another is at the discretion of the receiving institution. Consult the Registrar's Office for information on eligibility for transfer credit.
Academic Procedures
A dual registration process is followed for all GIAL courses taken for the degree. Students must register through GIAL before taking linguistics courses at that campus. Dallas Seminary is then notified by GIAL and enters the courses in the DTS registration system. This allows the tracking of student status for such purposes as loan deferments, international visa requirements, etc. There is no charge for the DTS portion of the registration process for GIAL courses.
At the end of each term, GIAL sends official grade sheets to the Registrar's Office at Dallas Seminary for transcripting of their courses. Grades earned for GIAL courses are factored into the cumulative grade point average at Dallas Seminary.
Course Requirements
Sixty-two semester hours of course work are required as a minimum for graduation. Of those hours, 18 are prescribed in linguistics and language, 12 in Greek grammar and exegesis, 12 in Hebrew grammar and exegesis, 3 in biblical manners and customs, 3 in world missions, 9 in Bible exposition, and 5 in systematic and historical theology. The World Missions and Intercultural Studies department advises students in this program. Career guidance is also available from the GIAL staff.
Substitutions may be made for required courses with appropriate departmental approval. Students who have linguistics background or training should consult the GIAL registrar for course advice.
Linguistics and related translation courses are offered on the campus of GIAL in Dallas. Biblical and theological course work, as well as coursework in biblical languages, is offered at Dallas Seminary. A Spiritual Formation group supervised by the Department of World Missions and Intercultural Studies is designed to meet the needs of this group of students.
Completion of course requirements for the MA/BEL requires careful planning on the part of students as they seek to coordinate course work at two institutions. Every attempt is made to facilitate the completion of the program in two calendar years for full-time students. However, students should be aware that the linguistics courses from GIAL require prerequisites that may extend the length of the program. Before students begin their studies in the MA/BEL, they should consult the DTS registrar to develop a degree plan for completing requirements. This plan will include input from GIAL on the completion of linguistics requirements.
GIAL has designed its courses to be taught in six-month bimesters, from either January through June or July through December. Each bimester is divided into four sessions. Dallas Seminary follows a regular early-semester calendar. This results in the overlap of DTS courses with GIAL courses in a given term. As such, students are strongly advised to adhere to the curriculum chart that follows.
Students should consult both the DTS and GIAL registrars' offices for information on scheduling options. The Admissions office at DTS also will be able to assist students.
Degree Plan
This plan minimizes potential problems with financial aid and housing between the two programs. Students not following this plan may experience unforeseen problems and delays in degree completion. Students are strongly advised to complete all GIAL graduate courses before beginning DTS coursework.
First Year
Fall Semester
Code
Name
Hours
AL5207
Field Data Management
2
AL5406
Field Methods
4
AL5312
Discourse Analysis
3

9
Spring Semester
Code
Name
Hours
AL5315
Semantics and Pragmatics
3
AL5316
Theory and Practice of Translation
3
GIAL Elective1
3

9
Second Year
Fall Semester
Code
Name
Hours
NT101
Elements of Greek
3
OT101
Elements of Hebrew I
3
BE315
Bible Manners and Customs2
3
WM520
A Biblical Theology of Missions A Biblical Theology of Missions (or WM540 Applied Biblical Contextualization)
2
WM901
Independent Study in Independent Study in Missions
1

12
Spring Semester
Code
Name
Hours
NT102
Elements of Greek 2
3
OT102
Elements of Hebrew II
3
SF245
M.A./BEL Spiritual Formation
BE101
Bible Study Methods and Hermeneutics
3
BE102
Old Testament History I Old Testament History I (or BE107 Hebrews, General Epistles, Revelation)3
3

12
Third Year
Fall Semester
Code
Name
Hours
NT103
Intermediate Greek
3
OT103
Hebrew Exegesis I
3
ST101
Introduction to Theology
3
BE104
Old Testament Prophets Old Testament Prophets (or BE106 Acts and Pauline Epistles)
3

12
Spring Semester
Code
Name
Hours
NT104
Introduction to New Testament Exegesis
3
OT104
Hebrew Exegesis II and Old Testament Introduction
3
HT200
History of Doctrine
2

8
Students may choose any GIAL master's-level elective recommended by their GIAL adviser. Consult the current GIAL catalog for available electives. Students have the option of taking their elective during either the fall or spring semester at GIAL.
BE315 and WM520 are offered in the fall semester of even-numbered years. WM540 is offered in the fall semester of odd-numbered years. WM901 is taken in conjunction with and is designed to be a 1-credit-hour enhancement of WM520 and WM540.
Bible Exposition courses may be replaced with exegesis courses in the Old or New Testament Studies departments or by other Bible Exposition courses as approved by the program advisor.
Request Info
Additional optional info:
skip
Thanks! We'll be in touch shortly. And please feel free to contact us at admissions@dts.edu or 800-3-DALLAS
Teach Truth. Love Well.