Doctor of Educational Ministry (DEdMin)
The Doctor of Educational Ministry (DEdMin) is designed to encourage you in your ministry journey and to further equip you to more effectively minister in today's world.
Distance Model: only requires 1 or 2 week residency in January and July each year for the core courses to keep you centered in your current ministry.
Built on MA/CE: The DEdMin is designed for those with an MA/CE or equivalent degree working in educational ministries.
Choice of Personalized or Cohort approach: You can work with a like-minded small group or one-on-one with a mentor.
Exceptional Faculty: Regular DTS faculty and other visiting DMin/DEdMin faculty are known worldwide as gifted writers, articulate speakers, experienced minsters and experts in their respective fields.
Two Approaches
Cohort Approach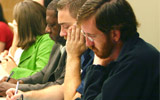 The cohort structure is offered for students seeking a specialized plan of study with a small group of ministry colleagues. This group moves through a designated part of the program together, enjoying a community experience with fellow learners and mentor scholars.
Personalized Approach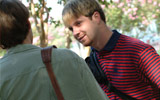 The personalized program allows students to pursue a flexible, individualized plan of study with the guidance of a faculty adviser. This program empowers students to design and customize their course map around their core ministry needs, goals and interests.
DEdMin Process and Details
The heart of the DEdMin is flexibility and personalization. To begin, you will create an overall plan of study. You may focus on one of several areas such as church education, ministry to children, youth or adult ministry, roles as associate pastors or ministry directors, educational administration, camp ministry, spiritual formation, women's ministry, or you can design a program with a varied approach. Your plan, which is evaluated annually, originates from your individual goals, and your assessment of perceived strengths and limitations.
What's the Difference between DMin and DEdMin?
The DMin and DEdMin degree programs follow the same basic format (see below), but new acceditation requirements necessitate distinguishing between students focused on educational ministries and who hold an MA in education (DEdMin) and those in more general ministry leadership settings who hold an MDiv or equivalent degree (DMin).
How do DEdMin studies work?
We combine the best adult learning and professional ministry education. DEdMin, like DMin studies are built on a foundation of biblical theology and ministry theory, but focus on practical aspects of ministry.
Before and after the resident portion of each course, you'll complete assignments related to your individual ministry. Then, at the end of the program, you'll write an applied research project, which implements and evaluates ministry in your particular context. The strategies you learn for creating an assessing ministries will be invaluable throughout your ministry career.
Professional Ministry Education
While professors bring their expertise to the classroom, significant participation by the students is encouraged, and learning is a collaborative process. Lectures may introduce a topic, but from there you'll discuss, debate, problem solve, and strategize together in a relaxed atmosphere. DEdMin learning is intentionally relevant to ministry and life.
Course Design
Courses run for six months and include a one- or two-week resident portion, normally in Dec./Jan. or June/July. During the pre-residence, students prepare for the resident portion by reading assigned books and completing practical assignments. The resident portion is the week(s) during which students meet together as a class with their professors. The post-resident portion calls for the integration of the course content with the student's ministry.
Entrance Requirements
Applicants must meet the following:
Hold the DTS MA/CE (or its equivalent) or the MDiv or ThM Other theological master's degrees may be considered for admission
Have a least three years ministry experience
Show evidence of growth and competence in ministerial skills and educational leadership
Affirm agreement with the following doctrines:

the authority and inerrancy of Scripture
the Trinity
the full deity and humanity of Christ
the spiritual lostness of the human race
the substitutionary atonement and bodily resurrection of Christ
salvation by faith alone in Christ alone
the physical return of Christ
For more information about the new Doctor of Educational Ministry program please contact the DMin office at dmin@dts.edu or call 214-887-5150.