Master of Arts (Biblical Studies) (MA/[BS])
The MA(BS) is the only master's-level degree program at DTS that can be completed almost entirely online*. The MA(BS) provides a strong foundation for Christians living out their faith in any setting. It is designed primarily for lay leaders who desire training so as to better serve within their church or parachurch organization.
The MA(BS) degree is based on the principle that any follower of Christ will benefit from advanced training in biblical and theological studies, becoming a more effective minister of the gospel wherever they serve.
Graduates
Jennie Allen equips women to serve others.
Tom Nelson serves on the DTS Board of Incorporate Members.
Online and Distance Education
The MA(BS) can be completed by taking courses online or at one of our eight locations. View a sample of an online class.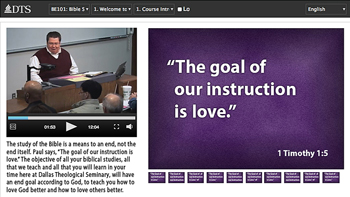 Details
Educational Goals
To enable students to:
demonstrate a general knowledge of the Bible, including a synthetic understanding of the major books
evidence an understanding of the historical development of theology, a knowledge of premillennial theology, and an ability to support their theological views and apply them to contemporary issues.
Spiritual Goal
To enable students to evidence an increasing likeness to Christ as manifested in love for God, love for others, and the fruit of the Spirit.
Ministry Goals
To enable students to:
demonstrate an increasing involvement in the local church or other ministries with which they are associated
minister within a local church or other group by means of leadership skills, evangelism, and service.
Admission Requirements
Admission requirements and application procedures for the MA(BS) are the same as for all programs of study at the Seminary. Students will generally not be admitted into this degree program without goals consistent with the ministries for which the program is designed to equip them.
Please note: those seeking preparation for vocational ministry should apply for one of the professional degree programs.
Course Requirements
Sixty-two semester hours of course work are required as a minimum for graduation. Students may pursue this degree on a year-round basis or during summers. By taking about 12 hours of course work each summer, students can complete the program in five summers (or four summers if several elective hours in independent study courses are taken between summers of study).
Twenty-four of the 62 hours are in prescribed Biblical Studies courses, 18 are in prescribed Systematic Theology courses, 2 are in Historical Theology, and 4 are in Spiritual Life and Evangelism. Of the remaining 14 elective hours at least two hours must be taken in Christian Education and at least two hours in World Missions and Intercultural Studies.
No thesis is required for the MA(BS) degree. There is a seven year time limit on completing the MA(BS).
Transfer Credits
Transfer of some credit is allowed toward the professional MA programs from accredited graduate theological schools. Up to 30 hours of credit may be transferred toward the MA in Biblical Studies.

Students must have earned a grade of C or better for a course to be considered in transfer. Transferability of credits earned at this institution and transferred to another is at the discretion of the receiving institution. Consult the Registrar's Office for information on eligibility for transfer credit.
Degree Plan*
First Year
Fall Semester
Code
Name
Hours
BE101
Bible Study Methods and Hermeneutics
3
ST101
Introduction to Theology
3
PM101
Spiritual Life
2
PM102
Evangelism
2
RS101
Orientation and Research Methods
1
SF100
Spiritual Formation1
Elective(s)2
3

14
Spring Semester
Code
Name
Hours
NT113
New Testament Introduction
2
BE102
Old Testament History I
3
BE105
The Gospels
2
BE109
Ruth, Psalms, Jonah, and Selected Epistles
3
ST102
Trinitarianism
3
Elective(s)2
3

16
Second Year
Fall Semester
Code
Name
Hours
BE103
Old Testament History II and Poetry
2
BE104
Old Testament Prophets
3
BE106
Acts and Pauline Epistles
3
ST103
Angelology, Anthropology, and Hamartiology
3
ST105
Sanctification and Ecclesiology
3
SL335
Personal Assessment and Ministry Vision
2

16
Students have two calendar years (four consecutive fall/spring semesters) to complete the SF100 Spiritual Formation requirement. Students who register for SF100 need to keep in mind that the course is a four-semester-long course that will meet at the same day and time each of the four semesters. See the Spiritual Formation and Leadership department for more information.
At least 2 hours of electives must be selected from the Department of World Missions and Intercultural Studies. If CE105 or CE450 is not taken, at least 2 hours of electives must be selected from the Department of Christian Education.
The following courses are approved to meet the Communications course requirement: CE103 Teaching Process (2 hrs.) AND CE104 Audiovisual Presentations (1 hr.), CE105 Teaching Process and Audiovisual Presentations (3 hrs.), CE450 Women Teaching Women (3 hrs.), or an approved PM Communications course (3 hrs.). For more information contact the Student Advising Center.
---
*Note: This curriculum plan is intended for new students only. Current students should refer to the degree requirements available from the Advising Center.

SL335 is not available online and must be completed at one of our eight locations.
Request Info
Additional optional info:
skip
Thanks! We'll be in touch shortly. And please feel free to contact us at admissions@dts.edu or 800-3-DALLAS
Teach Truth. Love Well.