Seminary Wives in Ministry
S.W.I.M. (Seminary Wives in Ministry) exists to equip wives to be competent servants alongside their husbands in ministry.
Components
There are three components to the SWIM program that assist us in fulfilling our mission:
Triple S: SWIM Self-Study exists to provide the seminary wife with opportunities of spiritual growth through an independent reading program and guided by a faculty wife. For more information on Triple S, contact Charity Anderson or fill out the interest form.
SWING: Seminary Wives In Nurturing Groups exists to assist seminary wives to grow in their walk with the Lord, develop relationships and help prepare them for ministry. For more information on SWING, contact Jennifer Bugos or sign up for a group.
Acts 18: Acts 18 exists to provide new seminary wives in transition with support and information about the Dallas community. For more information on Acts 18, contact swim@dts.edu.
In addition, we also sponsor special events such as semester opening programs, seminars and an annual wives retreat. Join us on Facebook to receive reminders about SWIM activities.
Spring Retreat
Magnifying Marriage (wherever in the world it takes you)
March 27-29, 2015
Seminary Wives in Ministry would love to have you attend this year's spring retreat. Join us as we spend the weekend exploring God's purpose for marriage with speaker Lori Evans. Our workshop will help address and find ways to magnify and build up your marriage. This retreat will give you a chance to meet and fellowship with ladies who can relate to where God has you. Don't miss this chance to enjoy a weekend away and to prepare for wherever in the world He leads you next!
Friday-Sunday, March 27-29*
Check-in: Friday, 7pm. Activities end: Sunday, 2pm.
Mt. Lebanon Baptist Encampment, Cedar Hill
www.mtlebanoncamp.com, about 30 minutes from DTS
$40 per person - includes 2 nights' lodging and 5 meals, scholarships available
Register online by Tuesday, March 17, to be guaranteed a retreat T-shirt in your requested size. Deadline to register is March 23.
*We will pack the weekend full of fun, learning, growing, and bonding. We want you there! If you are unable to stay the whole time come to what you can. Special accommodations made for nursing mothers.
Acts 18 Partner Program
A Special Partnership for Current and Incoming Wives
Acts 18 is a program designed for incoming wives as a way to partner with a current seminary wife who will connect with you, pray for you, and help you settle into life in Dallas and as a seminary wife. Your current wife will help guide you to local resources and help welcome you to Dallas.
Please sign up today if you are interested in partnering as a current or incoming wife.
Volunteer Opportunities
SWIM is looking for volunteers who can serve on our board or who can give a small amount of their time every few months. It is a great opportunity to gain ministry experience and to serve others.
Contact Carolyn Hannah, SWIM advisor, at swim@dts.edu to see what our current needs are.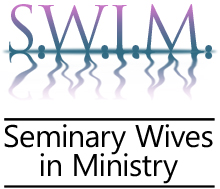 Contact Information
Advisor

Carolyn Hannah

Board

Faculty wives and student wives.

Email

Facebook
2014-2015 EVENTS
Join our email list to get event reminders and information on how you can get connected.
September 6, 2014
Fall Opening
November 1, 2014
Fall Seminar: Jill Briscoe
January 30, 2015
Chili Cook-off
February 7, 2015
Spring Seminar
March 27-29, 2015
Spring Retreat
May 2, 2015
Graduating Wives Coffee Brunch