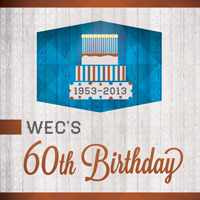 Welcome to the World Evangelization Conference 2013! The World Evangelization Conference (WEC) is DTS' annual missions conference which exists to bring glory to God by spurring students on toward the mission of God through the Gospel of Jesus Christ by the power of the Holy Spirit. It is a week-long campus-wide event entirely designed and coordinated by students for students and guests – it is open to the public!
Conference presenters include pastors, professors, missionaries, and field experts who will speak in Chapels, Breakout Seminars, Workshops, and Special Events. Additionally, students will have the chance to learn about short term, long term, and career ministry opportunities from over 40 global organizations who will join us as conference exhibitors. At the end of the day, our hope is that students will be more exposed to global realities, be more equipped to minister globally, and ultimately, more compelled to participate in God's world-wide redemptive mission.
We invite you to check out the conference schedule and look forward to seeing you in March! The World Evangelization Conference (WEC) is a campus-wide event focused on helping students serve Christ in a global context. Dallas Theological Seminary annually sets aside an entire week to focus the entire campus on WEC. Regular classes are canceled, and students serve as the main mobilizers of and participants in the conference. WEC also has active involvement from the missions community, attracting dozens of representatives from agencies representing all parts of the globe.
The WEC Team
wec@dts.edu
March 11-15, 2013
Main Schedule
Tuesday-Friday
7:10-7:50am – Prayer (CAC 102)
8:00-8:50am – World Focus Chapel (Chafer)
8:15-8:45am – Kids' Konference Sign-in (2nd Floor of Campbell)
9:00-9:55am – Seminars (See seminar page)
10:00-11:00am – Global Café and Expo (Lamb Auditorium)
11:00-12:30pm – Plenary Session (Chafer)
12:30pm – Kids' Konference Ends
12:45-2:00pm – Exhibitor Workshops (See exhibitor sign-ups in Campbell Lobby)
9:00-9:45pm – Evening Prayer (CAC 102)
Special Events
Monday
7:00pm – Kick-Off Chapel (Mabee Lounge in Walvoord)

7:45pm – International Dessert (Mitchell Dining Hall)
Tuesday
6:00-8:00pm – Creativity Café (Mabee Lounge in Walvoord)
Wednesday
6:30-8:00pm – Free Dinner and Q&A (Mitchell Dining Hall)
Thursday
12:45-2:30pm – Women's Luncheon (Mitchell Dining Hall)
Evening - Dinner with Professors