The Master of Arts degree with majors in Old Testament, New Testament, or Theological Studies (MA) is designed for persons anticipating advanced research.
---
The academic Master of Arts program has been uniquely designed for students who want to supplement previous undergraduate Bible or graduate seminary education or prepare for future doctoral work.
The curriculum
Based on your previous work, the MA allows you to take DTS's accelerated core courses along with advanced language work, and then add courses in the field you choose.
Accelerated Core

AS5101 Seminar on Practical Theology, Hermeneutics, and Research
AS5102 Seminar on Educational Process of the Church and World Missions
AS5103 Seminar on Old Testament Books
AS5104 Seminar on the New Testament
AS5105 Seminar on God, Creation, Humanity, and Sin
AS5106 Seminar on Salvation, Sanctification, and the Church
Theology, Languages, and Research

Spiritual Formation
ST5101 Theological Method and Bibliology
ST5106 Eschatology
XX5103 Third semester Greek or Hebrew
XX5104 Fourth semester Greek or Hebrew
XX5902 Thesis
Academic Discipline

OT Major Courses

OT5205 Introduction to Old Testament Criticism
OT5605 Old Testament Backgrounds
OT54xx Exegetical Studies Electives
Choose one of the following:
OT5315 Old Testament Textual Criticism
OT5320 The Septuagint
Choose two of the following:
OT5302 Historical Hebrew Grammar
OT5305 Advanced Hebrew Grammar
OT5310 Hebrew Reading
Old Testament Studies Tracks
(students may choose either Ancient
Near Eastern Studies or Old Testament Studies)
Ancient Near Eastern Studies
OT5606 Seminar in Old Testament Backgrounds
Choose two of the following
OT5325 Biblical Aramaic
OT5330 Introduction to Ugaritic
OT5335 Northwest Semitic Inscriptions
OT5360 Introduction to Akkadian
Old Testament Studies
OT5206 Seminar in Old Testament Criticism I
OT5207 Seminar in Old Testament Criticism II
Choose one of the following:
OT5325 Biblical Aramaic (3)
OT5330 Introduction to Ugaritic
OT5335 Northwest Semitic Inscriptions
OT5360 Introduction to Akkadian

NT Major Courses

NT5105 Exegesis of Romans
NT5205 Advanced Greek Grammar
NT5400 The New Testament in Contemporary Culture
NT5425 Daily Life in the First-Century City
NT5420 Seminar in New Testament Literary Contexts
NT5435 Seminar in New Testament Theology
NT5902 New Testament Thesis
NT Major Open-Elective Hours – 9 credits

Theological Studies Major Courses

HT5101 Church to the Modern Era
HT5102 Church in the Modern Era: Europe and North America
HT5200 History of Doctrine
ST5295 Systematic Theology Colloquium
ST5200
to
ST5500-Level Elective
ST5600-Level Elective
TS Major Open-Elective Hours – 10 credits
Immersive Learning
See the many ways students are prepared for a lifetime of fruitful ministry.
Financial Aid
Through our donors and Foundation, we are able to offer hundreds of scholarships to students every year.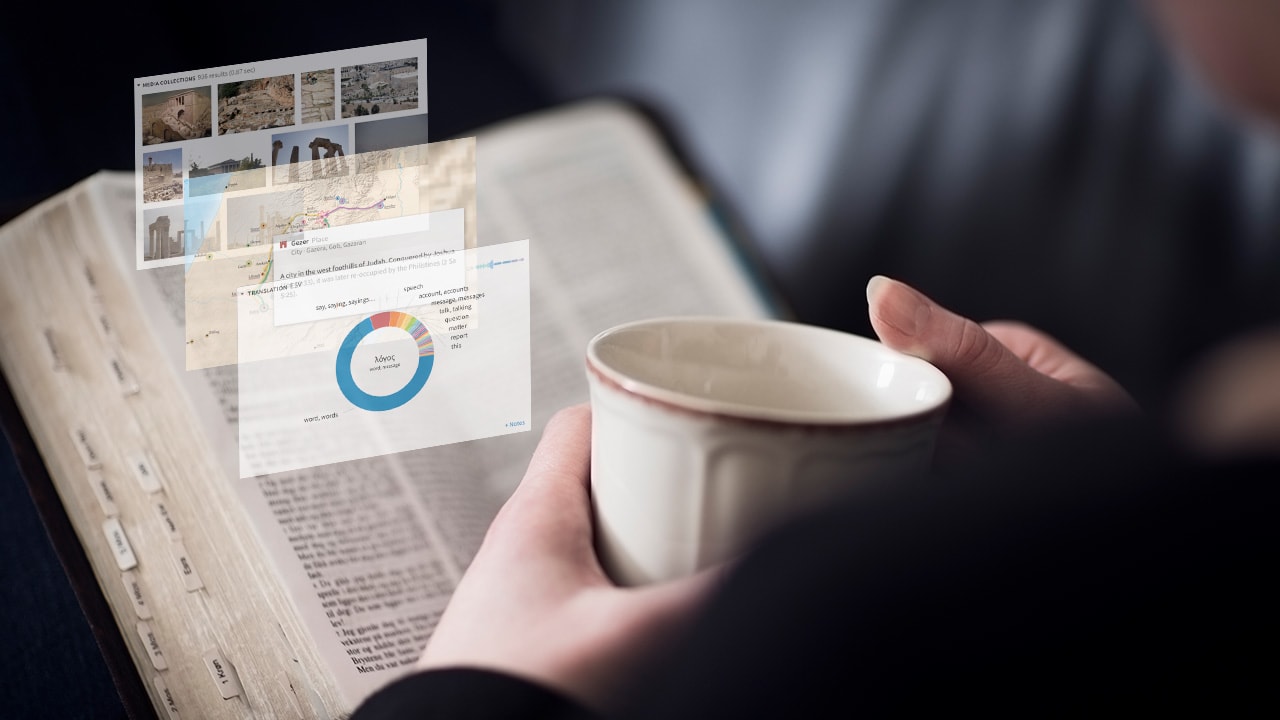 Logos Bible Software
Every student at DTS receives a copy of Logos Bible Software customized with additional commentaries and resources, and DTS courses integrate Logos into assignments and learning.
Accelerated and Advanced Standing
Attended Bible college or have advanced biblical/theological knowledge? You might qualify for Advanced Standing.
Stories from our community
God has placed our graduates in a variety of ministries, business, and schools. Here are some stories from our recent alumni.
Pastor, teacher, author, speaker, and DTS Doctoral Grad, Dr. Tony Evans
Dr. Josh Bleeker – Serving Leaders in Washington, D.C.
Dr. Daniel Wallace Digitizes Ancient Manuscripts
Program Details
Goals

Students in the MA program will be able to:

demonstrate a general knowledge of the Bible, including a synthetic understanding of major Bible books;
evidence a general knowledge of systematic theology from a premillennial framework and an ability to support their theological views and apply them to contemporary issues;
demonstrate specific knowledge in the discipline of their selected concentration in the program necessary for advanced research in that discipline;
evidence an increasing likeness to Christ as manifested in love for God, love for others, and the fruit of the Spirit; and
demonstrate involvement in their local churches and/or other ministries with which they are associated.
Admissions Requirements

The admission requirements and application procedures for the MA are the same as for all programs of study at the seminary. However, due to the research nature of the MA, admission to the program will be limited to students who have a strong biblical, theological, and ministry-training background. It assumes students admitted to the program meet or exceed the seminary's Accelerated Advanced Standing requirements. If such prerequisites are not met, leveling work will be required. For more information on the seminary's Accelerated Advanced Standing Program requirements see www.dts.edu/advancedstanding or email advancedstanding@dts.edu.

Students must submit their application and submit all items of their advanced standing application by July 1st for the fall semester and November 1st for spring admission. Applications submitted after the deadline will not be considered and students are encouraged to contact Admissions to discuss their options.
Transfer of Credit

Transfer of up to 30 hours of credit is allowed toward the MA program from accredited graduate programs in related fields of study. Students must have earned a grade of C or better (2.0 on a 4.0 scale) for a course to be considered for transfer. Consult the registrar's office for information on eligibility for transfer credit.
Residence Requirements

While some of the MA courses may be completed online or at one of the seminary's approved extension locations, the unique nature of the MA will require students to complete the majority of their course work in residence at the Dallas campus. Students in the MA degree program will work with the Advising Center and the department of their intended major on course requirements and scheduling.

Regardless of the mode of delivery (at the Dallas campus, an approved extension, or online), at least fifty percent of the course work required for the degree must be earned through DTS.

All work toward the MA degree must be completed within seven years from the time of initial matriculation. Extension of this time limit requires approval of the Credits Committee. Reinstatement to the MA after withdrawal requires Admissions Committee action and may subject the student to additional requirements for the degree.
Course Requirements

Sixty semester hours of coursework are required as a minimum for graduation. Students may also be required to complete additional leveling work in foundational biblical, theological, and ministry areas as well as in the biblical languages (Hebrew and Greek) if they have not had sufficient background in these disciplines prior to admission. The amount of leveling work required will be determined as part of the admissions process for the degree.
Common Required Core

In addition to any required leveling work, students in the MA, will complete 32 hours of common prescribed courses indicated in the chart on this page, which include advanced Hebrew language study for Old Testament Studies majors or advanced Greek language study for New Testament Studies majors. The core requirements also include a 2-hour thesis in the student's intended major. In addition to the common 32-hour core, MA students will complete 28 hours in their intended major (Old Testament Studies, New Testament Studies, or Theological Studies). All students in the MA will be required to pass comprehensive exams in their major.
MA Majors

Students in the MA will select a major in Old Testament Studies, New Testament Studies, or Theological Studies. The required thesis listed above in the Common Core for the MA will be written in the department of the student's major. Students must also pass comprehensive exams in their area of major. Students may contact their major department for more information concerning the exams.
Spiritual Formation

Because DTS values Christlike character and spiritual maturity, MA students are required to register for and participate in Spiritual Formation groups each of their first four consecutive fall and spring semesters. (MA students who are not planning to be in residence in Dallas or Houston for four consecutive fall and spring semesters must contact the Spiritual Formation Office and apply for an alternative program for completing their Spiritual Formation requirement.)

In the Spiritual Formation curriculum, small groups of five to seven students focus on identity, community, integrity, and fidelity. The groups also provide an atmosphere for prayer, fellowship, and the integration of learning with life and ministry.

Because students participate with the same group during four consecutive semesters, they should plan their schedules so they may meet on the same day and at the same time each semester. Spiritual Formation is a noncredit, transcripted experience.