Doctor of Philosophy (PhD)
The Doctor of Philosophy degree is designed to train scholars and educational leaders for various fields of Christian ministry involving research at the highest level.
Goals
Educational Goals
To enable students to:
develop skills of critical thinking and reflection;
acquire a suitable mastery of the content of their chosen field of study;
evaluate major issues and scholarly views within their academic discipline;
engage in reliable independent research, using relevant primary and secondary sources; and
contribute to biblical and theological research.
Spiritual Goal
To enable students to:
manifest traits of personal integrity, character, and spirituality.
Ministry Goals
To enable students to:
communicate effectively through writing and teaching and
demonstrate ability and acceptability for Christian ministry.
Request Info
Loading...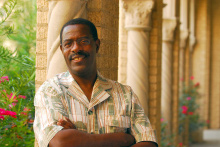 Dr. Musekura is the President and Founder of the African Leadership And Reconciliation Ministries (ALARM, Inc.), a growing ministry training church leaders and community leaders in Burundi, Congo, Kenya, Rwanda, Sudan, Tanzania, Uganda, and Zambia. In 2007 he completed a PhD in Theological Studies.