Washington Hall Apartments
Washington Hall is a 7-story apartment complex, built in 2008, offering one and two bedroom apartments to DTS students without children. Both rooms in a two-bedroom apartment include a full private bath and closet. A wide assortment of amenities are located in the interior space of this square building.
Information
Details
Phone
214-887-5210
Email
housing@dts.edu
1-bed rm.
22 units
$812/mo (private unit)
$431/mo (shared unit)
2-bed rm.
67 units
$636/mo (private bedroom)
$343/mo (shared bedroom)
Apartment Descriptions
This apartment complex is a gated community with electronic entry control to both the building and the parking lot. All apartments include central air and heat, refrigerators, stoves, dishwashers, and private bathrooms and walk-in closets for each bedroom. The apartments open into a central corridor which increases the development of community and contributes to energy efficiency. The apartments are unfurnished and are not provided with a microwave. The building amenities include small lounges on each floor, meeting rooms, computer center and resource library, laundry room, game room, movie rooms, music practice rooms, multi-purpose room which can be used for half-court basketball and volleyball, roof-top garden area, as well outdoor gas grills and swimming pool on the first floor adjacent to the building.
One Bedroom
The one-bedroom apartments are approximately 535 square feet with the following dimensions:
living/dining room/kitchen – 21' x 12'
bedroom – 10' x 11' plus a private bath and walk-in closet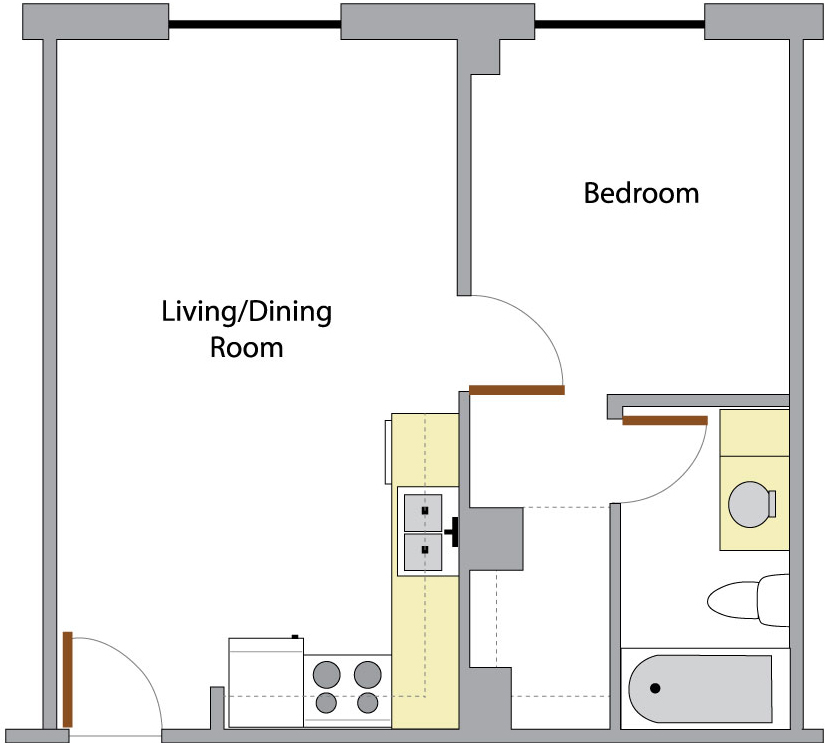 Two Bedroom
The two-bedroom apartments are approximately 775 square feet with the following dimensions:
living/dining room/kitchen – 21' x 12'
bedrooms – 10' x 11' plus a private bath and walk-in closet in each bedroom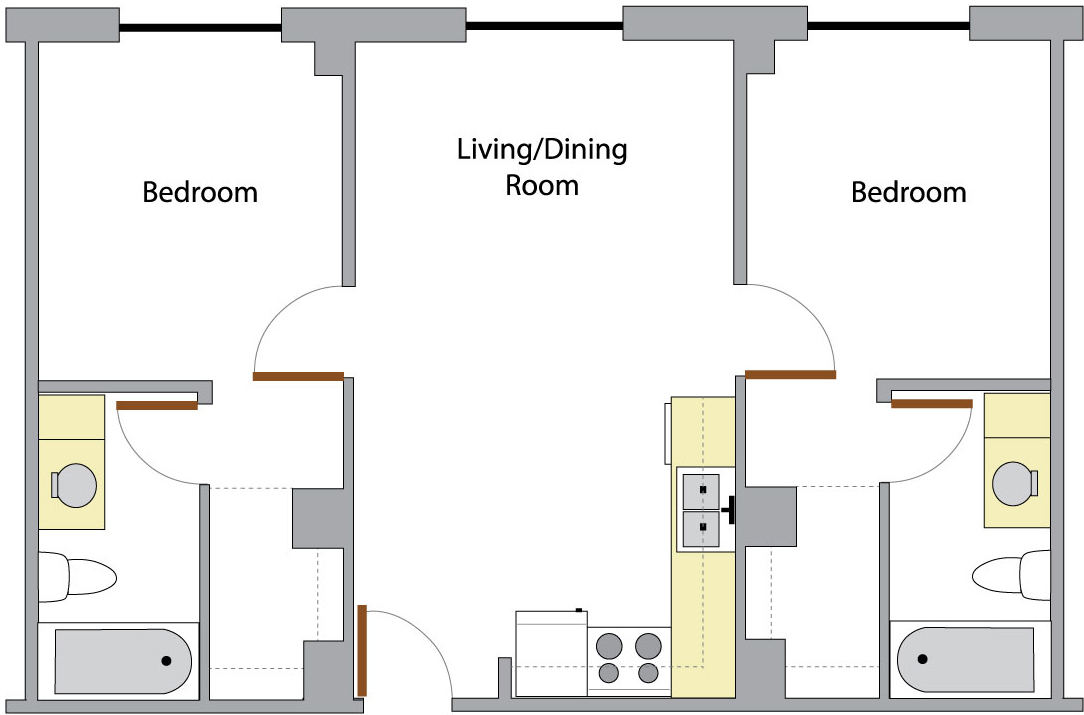 Terms and Conditions
This complex is for DTS students without children.  
The only requirements to live in campus housing follow:
1. He or she shows enrollment in a degree program at Dallas Theological Seminary.
2. Students needing only independent studies, internships, or thesis completion may remain in his or her apartment, provided all other conditions for graduation finish before the end of the Spring Semester.
Holding fee: Half of the security deposit must arrive in the Housing Office before the final assignment to an apartment.
Waiting List
The waiting list may be long so newly admitted students should apply as soon as possible. New Housing Applicants should not depend solely upon occupying a campus apartment during their first year at DTS and should explore off-campus options for back-up living arrangements. Please see Off-Campus Housing for more information. However the large majority of applicants for Washington Hall will be placed in the building by following the guidance provided by the Relocation Coordinator.
Parking
One parking space is allotted per bedroom (i.e. one-bedroom apartments allotted one spot and two-bedroom apartments are allotted two spots).
Security
The DTS Campus Police is available 24 hours per day, 7 days per week.