Logos Bible Software for DTS Students
DTS has partnered with Logos Bible Software to offer $14,000 worth of biblical and theological resources to DTS students for free*. Dallas Theological Seminary is committed to training students to study all 66 books of the Bible
equipping them to Teach Truth and Love Well.
Logos Training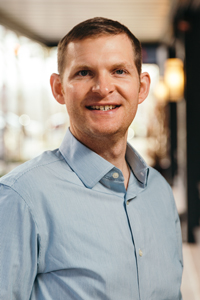 Chris McMaster
Todd 210
chris.mcmaster@faithlife.com
Chris McMaster is a Logos Master Trainer dedicated to equipping the students at Dallas Theological Seminary. From 2006-2013, he served as a trainer for New Tribes Mission teaching at New Tribes Bible Institute in Jackson, MI. During that time, he taught many courses including Hermeneutics, Bibliology, Ecclesiology, Deuteronomy, The Prophets, Ephesians, and Hebrews. He earned his BBA degree from Texas Tech University and his MTS degree in Old Testament from Moody Theological Seminary in Plymouth, Michigan.
Chris is thrilled to serve the students at DTS and will be providing training opportunities throughout the semester.
Training Dates
Logos 101 Online: Getting Started
Monday, 7/16/2018 4:00—5:30 PM

Where?: Online (Zoom)

When?: 7/16 @ 4:00 p.m. to 5:30 p.m. Central

Why?: It is very important for students to have a basic understanding of how Logos works. This will enable you to access the books, tools, and features you need efficiently. In this training you will learn the essentials needed to effectively navigate Logos, create a custom study layout, and use Logos guides for quick access to a wealth of information.
Logos 102 Online: Research and Writing
Monday, 7/23/2018 4:00—5:30 PM

Where?: Online (Zoom)

When?: 7/23 @ 4:00 p.m. to 5:30 p.m. Central

Why?: DTS equipped you with a significant number of theological works designed to help you as a student and in ministry. You need to learn how to find the books that help you accomplish different tasks, and you need to know how to efficiently find information in those books. This training will help you discover how Logos can support you in the research process.
Logos 103 Online: Original Language Tools
Monday, 7/30/2018 4:00—5:30 PM

Where?: Online (Zoom)

When?: 7/30 @ 4:00 p.m. to 5:30 p.m. Central

Why?: Studying the original languages is no easy task, but it enables you to dig deeper and have more confidence in your understanding of the text. Logos is designed to support you in this and make difficult tasks more accessible. In this training you will learn how to set Logos up to interact with the original languages, do text criticism, and run basic to complex searches.
Looking for additional training resources? See the Logos Student Training page.
The Best Biblical Resources
The DTS Logos bundle is a modified version of the Logos Silver package along with several key resources that will benefit students in their study.
DTS students will be given access to one of two collections of scholarly resources for powerful research. Both libraries are comparable in the amount of resources and depth. All DTS student libraries include the following resources: see the full list.
All Platforms, All Students
Logos offers both full-featured desktop software (Mac and PC) and free mobile apps (iPhone, iPad, Android, and Kindle Fire).
All currently enrolled DTS students will receive the software and resources listed to the right. Students who graduate with a master's or doctoral degree will be able to keep the software for life.
*DTS underwrites the cost through donor support and a small portion of the technology fee.
Essentials Package
DTS Collection
Frequently Asked Questions
Installation Questions
I'm a new student. When will I get the software?

Your new Logos package will be unlocked 1-2 weeks after the start of your first semester. You will receive an email from Faithlife (Logos) Academic Support letting you know when you have access and can download the software.

If you have not received the email but know other new students have, please check all of your email accounts and your junk/spam folders. If you do not have the email, installation instructions can be found below.

How do I install Logos on my computer?

In order to install Logos, you need to know your credentials (i.e. email and password). Using the wrong credentials will result in missing the books and tools included in the DTS package. See below for information on finding your credentials for sign-in.

Once you are notified that Logos has been unlocked, you can install the software by following the instructions on this page: https://www.logos.com/install. Follow the instructions under "How to Install Logos Bible Software". If you are signing in for the first time, please make sure you create a password by clicking "forgot password". Once you are signed in, the files to download will appear on the install page. Simply select either the download link for Mac Users or for PC Users and follow the directions.

What are my credentials? How do I sign in to Logos?

Sign in using the email address on file with DTS when your Logos software license was initially activated. This is typically the email address you provided when you first became a student, or returned from a leave of absence. You can check your current email address on file with DTS via Campus Net.

What if I am having trouble and need help downloading the software?

Once you have confirmed that you are using the proper credentials, contact Logos Customer Support at 800-875-6467.

If I already own Logos, do I need the DTS package? Do I have to use two separate accounts?

It is to your advantage as a student to possess and use the resources DTS has provided you.

If you provided DTS with the same email address as your current Logos account, your current account will automatically be upgraded with the DTS resources

If you provided DTS with a different email than your current Logos account, a second account will be created for you containing your DTS resources. If this is the case, you need to call Logos Customer Support and ask them to merge both accounts into one (800-875-6467).
General Questions
Why is DTS providing Logos to students?

DTS believes in equipping lifelong learners, whether on the Dallas campus or around the world, with the best tools and training available so that they will experience fruitful ministries for years to come.

Who will be given access to Logos? Do all students get it?

Any enrolled DTS student taking a course for credit will be given access to Logos. Unfortunately, audit-only students will not receive Logos.

How long will I have Logos?

Logos is designed to be a lifelong resource for DTS students and graduates. All enrolled students have access while they are taking courses at DTS. Students who graduate from any master's or doctoral degree program will keep their Logos access for life.

Unfortunately, graduates of the certificate program (CGS or CBTS) will not retain access after graduation.

Does Logos contain textbooks for my classes? Can I buy textbooks in Logos format?

You will be provided a library valued at over $14,000, which will save you approximately $300-$700 on required books (depending on the degree program). Some course textbooks will be included, while others will not. Simply search your Logos library to see if you have the textbook.

To add an additional textbook to your Logos account simply go to logos.com, search for the book, and add it to your cart. As long as you are signed in with the correct account information, your book will immediately be added to your software.

Are resources available in languages other than English?

Yes. While the default package contains English resources, select students may receive a modified package with either Chinese or Spanish resources. Students can explore the resources available in other languages by searching logos.com.