Online Seminary Education
You don't have to uproot to attend seminary.
DTS has fully online programs designed to immerse you in the
Gospel story in all 66 books of the Bible and prepare
you to serve wherever God calls you.
Live and Online Degrees
DTS offers three 100% online programs, two of which are also offered in Chinese. In addition, you can do up to 2/3 of our ministry master's degrees online in a hybrid format.
Get Started
If you're ready to begin your studies, you can start your application today or
request more information using the form below.
The Gospel in All 66 Books
The online MACS and hybrid MACL degrees from DTS have more hours in Bible and theology than an MDiv from most other seminaries.
Free Logos Bible Software
Every master's student at DTS receives a copy of Logos Bible Software loaded with commentaries and resources.
Campuses from Atlanta to China
You can supplement your online classes with live classes at one of our 10+ extension sites, including Houston, DC, and Nashville.
Godly Scholars Online and Off
Online courses are taught by the same world-class faculty who teach at our live campuses and who care deeply about your ministry.
Sample a Class
You can watch online lectures wherever you go using either your computer or mobile device.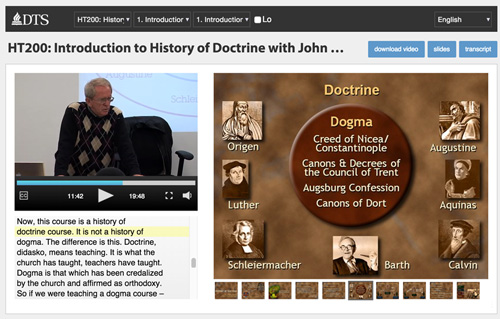 Student Stories
Hundreds of students around the world take online classes with DTS, forming a powerful community of men and women learning together as they live out the Gospel in their contexts.
See how online courses have made it possible for Pastor Keith Twigg to study at DTS while serving in another state.
Houston attorney Julie Waters uses her DTS training in Free the Captives, an anti human trafficking organization.
Prison Chaplain Lettie Watkins brings hope to prison inmates at the Stringfellow unit in Rosharon, Texas.
Course Types
There are several ways to join the DTS community without moving to one of our campuses.
Online Courses
These courses utilize pre-recorded video of lectures, edited for online use, as well as forums and other interactions.
Remote Video
If you'd like a live experience, you can also join some Dallas classes via a Skype-like technology.
Intensives
DTS also offers one-week intensives and SuperWeeks where you can take two live classes in Dallas during a single week.
The Value of Intensives
Online classes offer rich instruction and interaction from your current setting, while intensives at the Dallas campus and extension sites allow you to spend time in person with professors and fellow students.