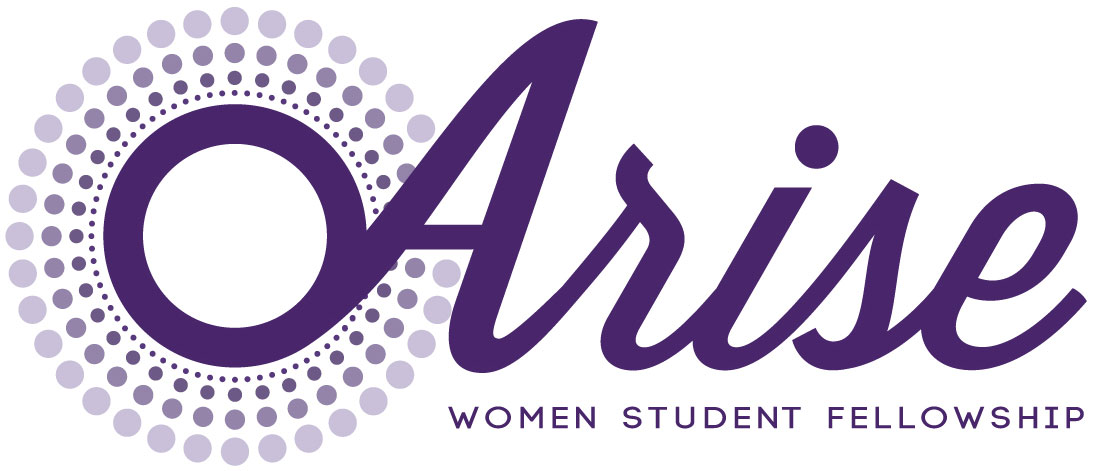 Welcome from Joy Dahl
President, Arise Board
Welcome women students of Dallas Theological Seminary! ARISE is the official student group for women, and we are so excited to have you as part of our community! Our desire is to...
Events for 2016-2017
Trending Topics (#TrendingTopics)

Our monthly forum for learning about and discussing topics relevant to women students as we prepare and equip for ministry, business, and academics, both in the U.S. and around the world. Speakers include women leaders who have embraced God's calling on their lives and stepped out in faith for His glory. Bring your lunch and come listen, learn, and engage in conversation with the presenters, DTS faculty and staff, and fellow students.

4th Tuesday of every month (when classes are in session)
When: 11:30-12:45 lunch hour
Where: CAC 110 (adjacent to Lamb Auditorium)

2016-2017 Dates

Tuesday, September 27, 2016

#TrendingTopics: Helping Women Find Freedom from Pornography

Did you know that almost one-third of online viewers of pornography are women? Join ARISE and Joy Pedrow, our September #TT guest speaker, in an interactive seminar to learn and discuss practical tools for ministering to women caught in the web of pornography. Bring your lunch and hear from someone who actively works with women to help them find freedom from pornography. And, don't miss the free resource giveaways!

Tuesday, October 25, 2016

#TrendingTopics: Women as Leaders–Courageously Forging Ahead in the Power of the Spirit

Whether we realize it or not, we are all leaders called by God–that's a vital part of why we're at DTS. ARISE is pleased to present our October #TT guest speaker: Dr. Sandra Glahn, a multi-published author, regular blogger at Engage (Bible.org's site for women in Christian leadership), and DTS Associate Professor in Media Arts and Worship. In addition to other courses, Dr. Glahn teaches PM351 The Role of Women in Ministry. Join us for a FREE LUNCH, discover truths about women in leadership, and be encouraged to courageously forge ahead in the power of the Holy Spirit to fulfill your calling!

Tuesday January 31, 2017

#TrendingTopic: Marketplace Ministry to Millennial Women

Welcome Kat Armstrong! Kat is co-founder and Executive Director for Polished, an outreach ministry that shares the gospel with a generation of young professional women. Founded in 2008, Polished has shared the gospel with almost 8,000 young professionals in Dallas, Austin and Ft. Worth. Kat's passion is to see young women navigate the complexities of work and life, inviting them to learn how the God of the Bible can inform and influence their day-to-day lives. Kat is also a DTS alumni, speaker, writer, entrepreneur, pastor's wife and mother! Bring your lunch and your questions about how to reach and minister to millennial women.

Tuesday, February 28, 2017

#TrendingTopic: Being Single and Serving Singles

Join ARISE for a dynamic discussion on singleness – what it means to be single in today's culture and how to minister singles. We are excited to welcome Elizabeth Woodson, Singles Coordinator at Oak Cliff Bible Fellowship and DTS student. Elizabeth loves to teach, encourage, and disciple women. She believes in keepin' it real as she strives to encourage them to be mighty women of God! Bring your lunch, bring your questions, and join in this relevant discussion about building unity within the church body and our culture by loving others well.

Tuesday, March 28, 2017

Arise Lunch Connections

ARISE promotes the building of authentic relationships as a sisterhood of seminary students despite challenges such as diverse backgrounds, various life stages, and extremely busy schedules. One way we do this is through facilitating conversations about various issues we face in seminary. Lunch Connections is a time of open discussion with fellow women students, so join us as we connect and encourage one another during this unique season in our lives.

3rd Tuesday of every month (when classes are in session)
When: 11:30-12:45 lunch hour
Where: WSC 105 (adjacent to the Student Center)

Dates:

September 20, 2016

Discussion: Growing Community with Commuter Students

Bring your lunch and join us for an open discussion about the challenges experienced by those of us who are commuter students, and how all of us (commuter students and resident students) can grow in community together.

Participants who write five thank-you cards to DTS supporters will receive free pizza lunch.

October 18, 2016

Discussion: Growing Community with Single Students

Bring your lunch and join us for an open discussion about the challenges experienced by those of us who are single students, and how all of us (whether single, divorced, widowed, or married) can grow in community together.

February 21, 2017

Discussion: BREATHE – Refreshing in the Spirit's Sabbath Rest

Bring your lunch and join us for an open discussion about the challenges of instituting regular Sabbath rest – particularly in seminary! Our discussion will incorporate the topic of our February Retreat, and it is a great way to connect even for those who aren't able to attend the Retreat.

Time: 11:30am - 12:45pm

Location: Walvoord 105 (small classroom next to Mabee Lounge)

Arise Student Chapel

Thursday, March 23, 2017
A diverse group of scholars (including DTS professors) who contributed to a forthcoming Kregel Academic book entitled Vindicating the Vixens will explore how the Church has often stigmatized women in the biblical narrative. Panelists, led by Dr. Sandra Glahn, will show how the stories of biblical women are actually functioning in the text, revealing God's heart for the "outsider."

Arise Retreat

BREATHE… Stepping away, exhaling our stress, and leaning into the Lord with an unrushed Sabbath perspective – even while filling out the registration form :) This is the vision for February's ARISE Retreat! Our one-night retreat is about stealing away with our seminary sisters to experience what BREATHE means firsthand. Join us as we soak in God's presence, connect with each other, and together learn how to incorporate Sabbath rest in our daily lives. You don't want to miss it!

When: Feb 10-11, 2017 (arrival between 3p-6pm on Fri, we'll conclude around 1pm on Sat)

Where: Mt. Lebanon Retreat Center, Cedar Hill, TX

Register using the link below – scholarships are available. If you have questions, please email us at Arise@dts.edu.
Leadership Board 2016-2017
President

Kelsey Poskey

Vice Pres

Milyce Pipkin

Chaplain

Genta Hayes

Secretary

Christine Lichtenwalters

Hospitality

Crystal Shi

Connections

Bethel Moges

Retreat

Jennifer Roth
Janay Barksdale

Publicity

Catelyn Jackson

Communica
-tions

Patrice van Dillen
Misty Ansted

Advisor

Dr. Lynn Etta Manning