Student Missions Fellowship
The purpose of the Student Missions Fellowship organization is to serve the Dallas Theological Seminary family by promoting awareness and participation in making disciples of all nations and facilitating a network of worldwide ministry partnerships.
Each year the SMF is engaged around campus and off campus with prayer meetings, evangelism, and fellowship events. SMF is also responsible for planning and executing the annual World Evangelization Conference, coordinating the World Focus Chapels, mobilizing students to participate in short- and long-term cross-cultural ministry, and planning various other events and activities that promote world missions.
If you are interested in or have any questions about the SMF activities, please do not hesitate to contact us!
Regular SMF Events
World Focus Chapels

10:40 - 11:15 AM once a month
CAC 109 Lamb Auditorium

SMF Missio Lunches

11:30 AM - 12:30 PM every other Wednesday
(CAC102

Tuesday Morning Prayer

6:30-7:30 AM every Tuesday
MMC 108 - President's Room
Spring 2017 Schedule
| Event | Date | Time |
| --- | --- | --- |
| Missio Lunch - CAC 102 | Mar. 1, Wednesday | 11:30 AM - 12:30 PM |
| World Focus Chapel | Mar. 24, Friday | 10:40 AM - 11:20 AM |
| Professor Potluck | Mar. 24, Friday | 6:30 PM - 8:30 PM |
| WMIS Canoe Trip | Apr. 1, Saturday | |
| Missio Lunch | Apr. 5, Wednesday | 11:30 AM - 12:30 PM |
| Missio Lunch | May 3, Wednesday | 11:30 AM - 12:30 PM |
| World Focus Chapel | Mar. 24, Wednesday | 10:40 AM - 11:20 AM |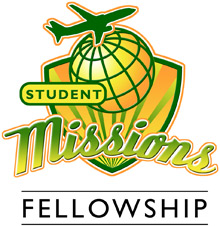 Contact Information
Advisor

Dr. Rodney Orr

President

Charlyn Valencia

Vice President

Jacob Drew

Secretary

Stacy Voortman

Media Consultant

Christian Williams

International Representative

Joy Cherian

Email
Hear DTS's heart for missions