Seminary Wives in Ministry
SWIM (Seminary Wives in Ministry) exists to equip wives to be competent servants alongside their husbands in ministry.
SWIM's Fall Opener: Dive in with SWIM
Components
There are three components to the SWIM program that assist us in fulfilling our mission:
Triple S: SWIM Self-Study exists to provide the seminary wife with opportunities of spiritual growth through an independent reading program and guided by a faculty wife. For more information on Triple S, contact Christy Trabun or fill out the interest form.
SWING: Seminary Wives in Nurturing Groups exists to assist seminary wives to grow in their walk with the Lord, develop relationships, and prepare for ministry. For more information on SWING, contact Jenny Fenton or sign up for a group.
In addition, we also sponsor special events such as semester opening programs, seminars and an annual wives retreat. Join us on Facebook to receive reminders about SWIM activities.
Volunteer Opportunities
SWIM is looking for volunteers who can serve on our board or who can give a small amount of their time every few months. It is a great opportunity to gain ministry experience and to serve others.
Contact Carolyn Hannah, SWIM advisor, at swim@dts.edu to see what our current needs are.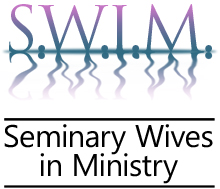 Contact Information
Advisor

Carolyn Hannah

Board

Faculty wives and student wives.

Email

Facebook
2017-2018 SPECIAL EVENTS
September 2, 2017
Opening Program
October 21, 2017
Fall Seminar
Spring Retreat (Date TBD)