Optional Extension: Experience Petra—One of the 7 Wonders of the World
Wednesday, March 18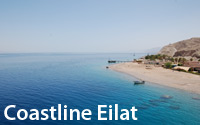 This morning we will depart the beloved city of Jerusalem and begin our drive south. We will arrive in Eilat early afternoon, allowing you to participate in optional activities which include snorkeling, scuba diving (certified divers only), visit the Underwater Observatory, or enjoy the afternoon in the comfort of our beautiful hotel.
Thursday, March 19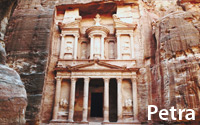 Today we journey into Jordan to visit the ancient city of Petra, the most mystic and glorious of Jordan's national treasures. We will walk through rose-red rock to the dramatic Syk—a huge fissure between two over-hanging cliffs and the only access to the city carved out of rock. We will have a full day to explore the ruins and visit the various tombs, temples, baths, water reservoirs, caves, and theater. We return to our hotel in Eilat for dinner and overnight.
Friday, March 20
Today, we will visit the magnificent Timnah, Egypt's ancient copper mines and the red-hued Pillars of Solomon. We will also trace the footsteps of the Israelites with a visit to a replica of the Tabernacle in the Wilderness and discover the significance of this holy place. Then, we will go on to the Wilderness of Zin and Paran where Hagar and Ishmael fled from the household of Abraham, and Maktesh Ramon to view the geologically wondrous Ramon Crater. That evening, we will visit the ancient city of Jaffa/Joppa and enjoy our final dinner together; rejoicing and reminiscing over the extraordinary days spent in the land of our Lord.
Saturday, March 21
With heart-changing memories of our walk in the footsteps of history, we return to the United States.