Optional 5-Day "Churches of Revelation" Pre-Tour Extension
June 15-20, 2014
Sunday, June 15
Depart from the United States for your flight to Istanbul, Turkey.
Monday, June 16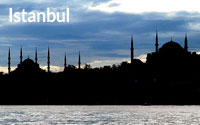 Arrive in Istanbul and transfer to your beautiful deluxe hotel.
Tuesday, June 17
Colossae, Laodicea, and Hierapolis
We begin our journey this morning with a flight into Turkey's interior. Our first stop is the ancient site of Colossae, a city that figured prominently in Paul's ministry in Asia Minor. We then visit the site of the once wealthy city of Laodicea (the Self Sufficient Church)—where Christ said He was standing at the door and knocking.
This afternoon we rest at our hotel in Pamukkale near the world-famous "cotton castle" mineral formations. In the evening we will visit Hierapolis to visit the mineral formations and springs that help us understand the "lukewarm water" of Revelation 3.
Wednesday, June 18
Aphrodisias and Tavas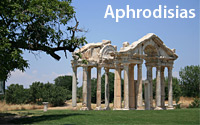 We begin today with a visit to the site of Aphrodisias, perhaps the finest remaining ruins of a city in the central part of Turkey. Here we will see a stadium where ancient athletes "ran the race that was set before them." After lunch we drive to Tavas to visit a rug factory and see the ancient art of rug-making that is skillfully carried on today.

Thursday, June 19
Philadelphia, Sardis, and Smyrna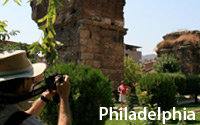 This morning we travel to Philadelphia (the Faithful Church). This city overlooked the ancient Persian Royal Road as it wound its way through the Meander Valley. We are then off to visit Sardis (the Dead Church), the legendary capital of the Lydian empire and home of its final king, the wealthy Croesus. We will look at the temple of Artemis and the magnificent ruins of a Roman gymnasium and Jewish synagogue. Late this afternoon we will arrive in the modern city of Izmir where we will tour ancient Smyrna (the Persecuted Church) and walk the agora, the "shopping center" of this ancient city. Our day ends at our deluxe hotel in Izmir.
Friday, June 20
Return to Istanbul
This morning we pack our bags for our return to Istanbul. We will join the rest of the Journeys of Paul cruise travelers for a welcome dinner at the hotel.