Tour Packages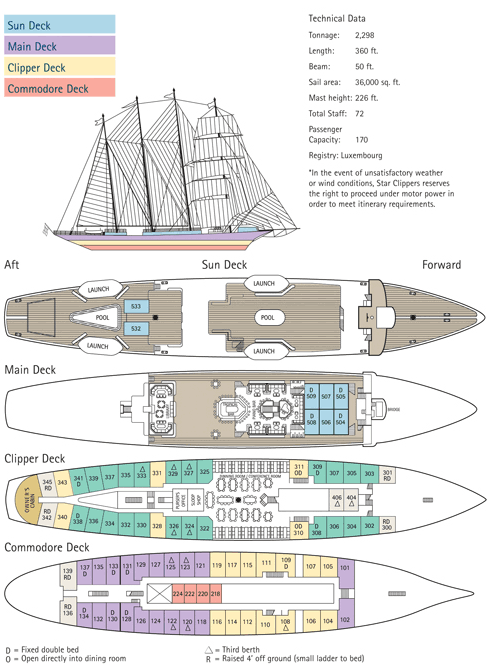 Luxurious Deluxe On-Deck Cabin, Two Lower Beds Convert to Double Bed, Cabins open onto Deck, Minibar, Private Marble Bathroom with Whirlpool Bath
Category Two
$6,195 per person
Clipper Deck
Deluxe Larger Outside Cabin, Two Lower Beds or Double Bed or Triple Berth, Private Marble Bathroom
Category Three
$6,150 per person
Clipper and Commodore Deck
Outside Cabin, Two Lower Beds or Double Bed or Triple Berth, Private Marble Bathroom
Category Four
$5,950 per person
Commodore Deck
Outside Cabin, Two Lower Beds or Double Bed or Triple Berth, Private Marble Bathroom
Category Five
$4,965 per person
Clipper and Commodore Deck
Inside/Outside Cabin, Two Lower Beds or Double Bed or Triple Berth, Private Marble Bathroom
Category Six
$4,590 per person
Commodore Deck
Inside Only Cabin, Upper/Lower Berth, Private Bathroom
Owner's Cabin
$7,590 per person
Clipper Deck
Luxurious Deluxe Outside Suite, Double Bed, Sitting Area, Minibar, Private Marble Bathroom with Whirlpool Bath
*Tour costs are based on double occupancy.
**Single supplement: $2,900 per person, per cabin category (excluding Owner's Cabin or Category 1).

Main Tour Package Includes:
Transportation between airport and tour's first and final hotels (arranged by Morning Star Tours)
All meals (except lunches and one dinner while in Athens)
All entrance fees to sightseeing destinations
All gratuities to guides, drivers, cruise and hotel staff
Porterage of one suitcase (standard size)
Deluxe hotel accommodations in Istanbul and Athens
Please see the Terms and Conditions for additional information on what is and is not included on the tour.

Optional Pre-Tour Extension:
Five-Day Tour of the Seven Churches of Revelation
$1,225 (single supplement: $300)
Deluxe hotel accommodations
All meals and entrance fees
Two in-country flights from Istanbul
Private, air-conditioned motor coaches

Airfare Packages (not included in cost of tour):
Please see the Terms and Conditions for details regarding international and in-country airfare for the tour.
To secure your spot, please register here.