Experience the Ship
Our accommodations aboard the majestic Star Clipper will be nothing less than first class! We have reserved the entire ship for this exclusive cruise, and we look forward to a wonderful experience of worshipping, learning, relaxing, and having fun together. This will be a tour characterized by the excellence you expect from Dallas Theological Seminary.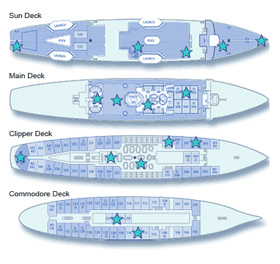 Take a Virtual Ship Tour.

Private Mega-Yacht Sailing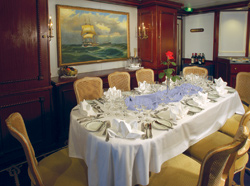 In centuries past, the great clipper ships sailed to and from the Far East bringing cargos of tea, spices, and Chinese porcelain for eager European buyers. Aboard the Star Clipper you will have a unique opportunity to savor the romance and nautical tradition of sailing in the rich blue waters of the Aegean Sea. As thousands of feet of sail unfurl above you, you'll feel the elation of those mariners of long ago.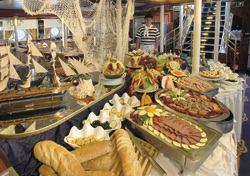 On board you will enjoy cruising in casual elegance with a relaxed atmosphere, a friendly crew, and international cuisine...all in pampered comfort. If you're a boating enthusiast, you can choose to lend a hand hoisting the sails, climb the mast, or just lie back and let the crew do all the work. Of course all the ship's water sports are complimentary (except for SCUBA diving) and include snorkeling, sunfish sailing, banana boating, waterskiing, and windsurfing.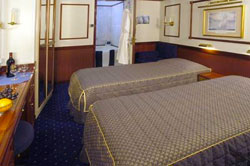 All 84 of the Star Clipper's well-appointed cabins are reserved for this exclusive DTS cruise. You will enjoy wonderful Christian fellowship, worship, and biblical teaching.