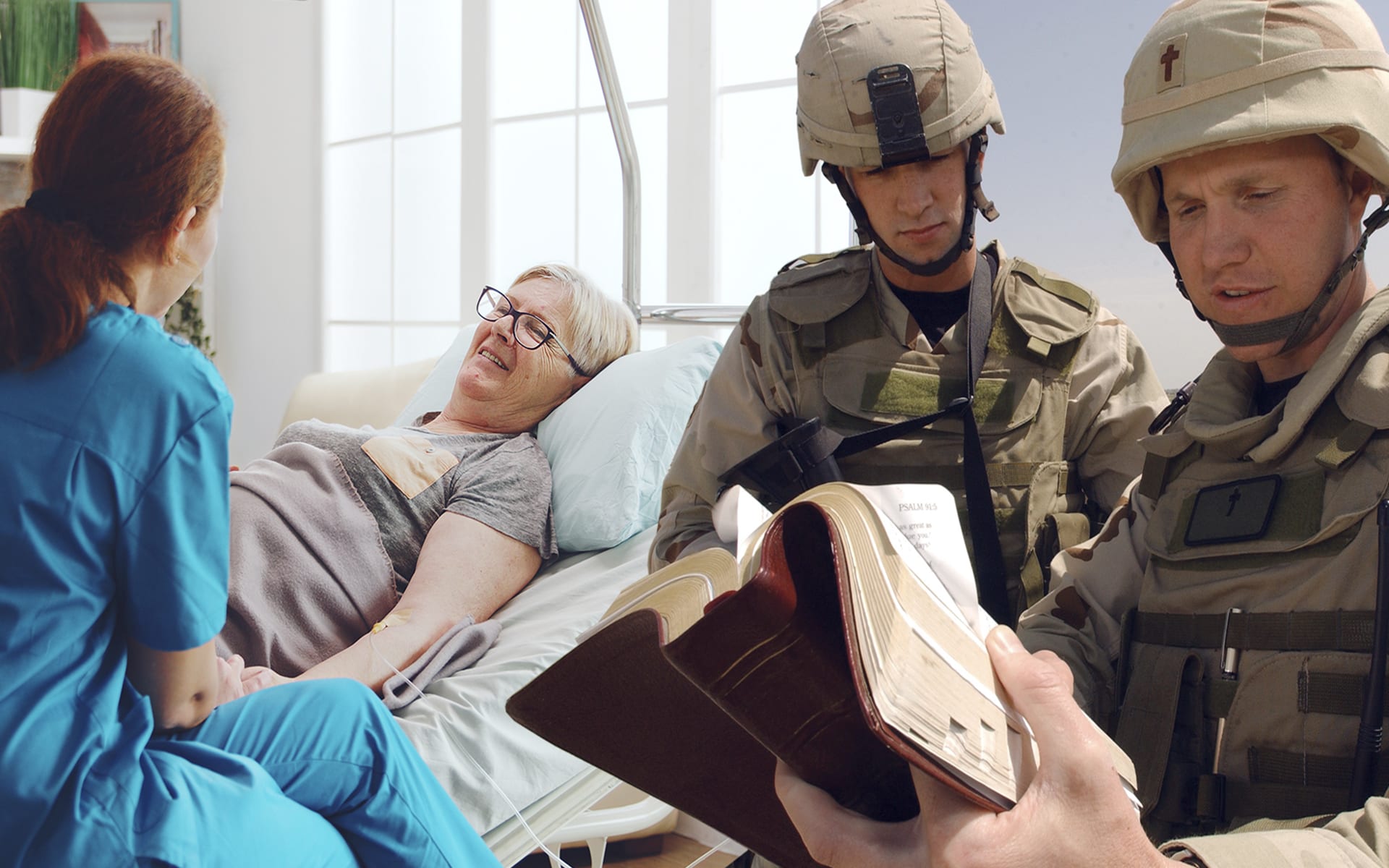 The Master of Arts in Chaplaincy and Ministry Care (MACP) prepares men and women to serve as chaplains in hospital, military, corporate, or campus environments and in other ministries of care
---
If you care deeply about people and seek to provide a combination of pastoral care, emotional and spiritual care, and practical life counseling to people outside of the church, becoming a chaplain is a great way to serve those without regular access to ministers.
*This degree program cannot be completed in the state of Tennessee.
The Curriculum
The 3-year MACP program includes DTS common core of Bible and theology courses along with practical training in preaching, counseling, pastoral care, and leadership.
Biblical Exposition

BE5101 Bible Study Methods and Hermeneutics
BE5102 Old Testament History I
BE5103 Old Testament History II & Poetry
BE5104 Old Testament Prophets
BE5105 The Gospels
BE5106 Acts & Pauline Epistles
BE5107 Hebrews, General Epistles, and Revelation
BE5109 Ruth, Psalms, Jonah, and Selected Epistles
Systematic Theology

ST5101 Theological Method and Bibliology
ST5102 Trinitarianism
ST5103 Angelology, Anthropology, and Hamartiology
ST5104 Soteriology
ST5105 Sanctification and Ecclesiology
ST5106 Eschatology
Chaplaincy and Counseling

BC5201 Theological and Psychological Foundations of Counseling
BC5210 Counseling Theory
BC5305 Counseling and Ethics Practicum I
BC5701 Chaplaincy Orientation and Ethics
Ministry Care and Leadership

EML5615 Applied Skills for Ministry Staff
PM5101 Christian Life and Witness
PM5103 or EML5450 Preaching I or Women Teaching Women
PM5302 Worship and Pastoral Care
WM5535 Theology and World Religions
Spiritual Formation and Electives

Electives – 9 credits
INT5180 Internship (could be used for CPE)
SF5100 Spiritual Formation
Immersive Learning
See the many ways students are prepared for a lifetime of fruitful ministry
Financial Aid
Through our donors and Foundation, we are able to offer hundreds of scholarships to students every year.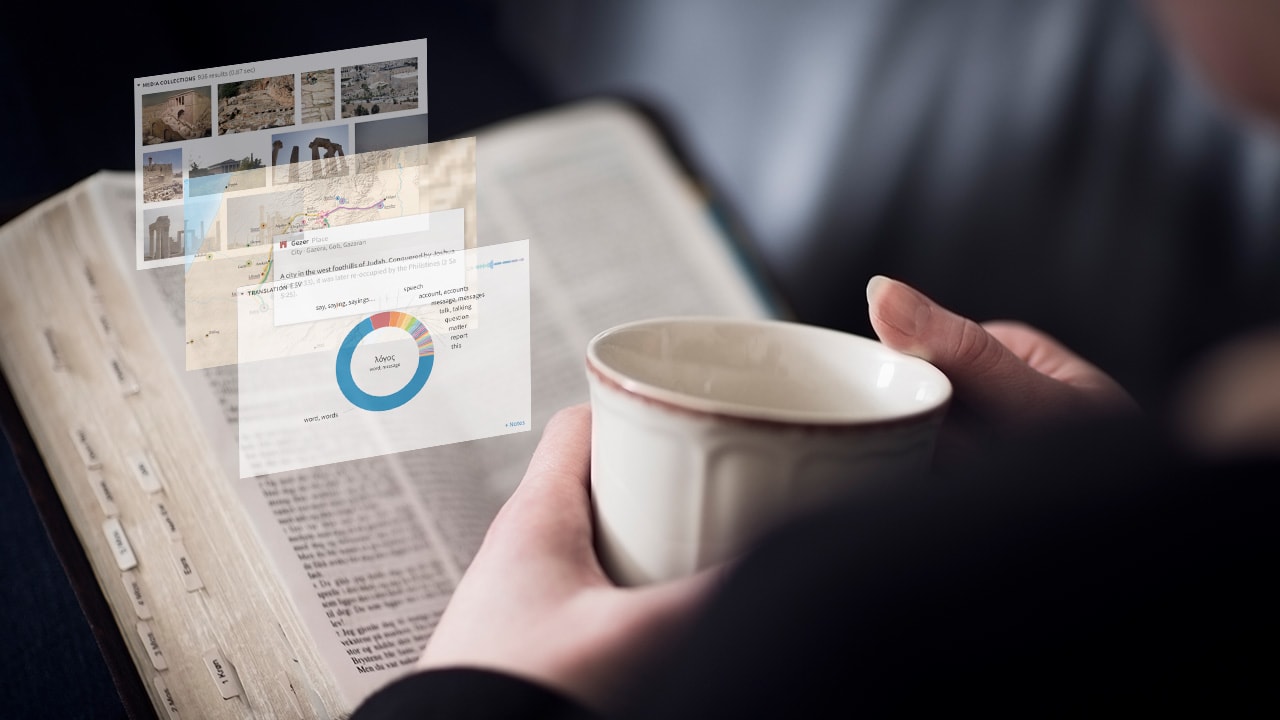 Logos Bible Software
Every student at DTS receives a copy of Logos Bible Software customized with additional commentaries and resources, and DTS courses integrate Logos into assignments and learning.
Stories from our community
God has placed our graduates in a variety of ministry settings including military chaplaincy, hospital chaplaincy, corporate chaplaincy, and elsewhere.
Kyle Sponaugle's Unique Ministry at the US Naval Academy
Prison Chaplain Lettie Watkins Brings Hope to Inmates
Meet Dorothy Burton, Founder of Christians in Public Service
Program Details
Purpose

The MA in Chaplaincy and Ministry Care degree program is designed to prepare graduates to serve as chaplains in hospital, military, or corporate environments and to offer compassionate care within other ministry settings.
Common Goals for Professional MA Programs

Students in all of professional MA programs at DTS will be able to:

demonstrate a general knowledge of the Bible, including a synthetic understanding of the major books;
evidence an understanding of the historical development of theology, a knowledge of premillennial theology, and an ability to support their theological views and apply them to contemporary issues; and
evidence an increasing likeness to Christ as manifested in love for God, love for others, and the fruit of the Spirit
Goals for MA in Chaplaincy and Ministry Care

In addition to the goals common to all professional degree programs at the seminary, students in this program will be able to:

communicate the Bible effectively and demonstrate ministry skills required for chaplaincy;
understand and explain the issues and problems that people face in life from a thoroughly biblical point of view;
engage in one-on-one compassionate ministry care for those seeking direction and guidance; and
function in interreligious and interdenominational environments with conviction, grace, and humility.
Course Requirements

Seventy-nine semester hours of coursework are required as a minimum for graduation. Of those hours, 22 are in prescribed Bible Exposition courses, 18 are in prescribed Systematic Theology courses, 12 are in Chaplaincy and Counseling, 15 are in Ministry Care and Leadership, 9 are electives, and 3 hours are in the Ministry Formation internship. No thesis is required.
Spiritual Formation

Because DTS values Christlike character and spiritual maturity, MACP students are required to register for and participate in Spiritual Formation groups for four consecutive fall and spring semesters at the Dallas, Houston, or Washington DC campus. (MACP students who are not planning to be in residence in Dallas, Houston, or Washington DC for four consecutive fall and spring semesters must contact the Spiritual Formation Office concerning how to meet their Spiritual Formation requirement.)

In the Spiritual Formation curriculum, small groups of five to seven students focus on identity, community, integrity, and fidelity. The groups also provide an atmosphere for prayer, fellowship, and the integration of learning with life and ministry.

Because students participate with the same group during four consecutive semesters, they should plan their schedules so they may meet on the same day and at the same time each semester. Spiritual Formation is a noncredit, transcripted experience. Internship prerequisites include successful completion of SF5100-1, EML5110, and completion of half of their DTS course work.

Additional Spiritual Formation courses focusing on leadership may be taken as electives.
MACP Pathway Examples

The 9 hours of electives and 3-hour internship can be combined in several ways. These are not formal tracks, but suggested pathways:

Hospital Chaplain

Students seeking to become a hospital chaplain must complete at least one unit of Clinical Pastoral Education (CPE) training at an approved site. They must also receive ordination or similar endorsement from their denomination. After completing the MACP, graduates would apply for a one-year residency to complete additional CPE units. Students should also consider joining the Association of Professional Chaplains (APC) and meeting their requirements for placement.
Internship – 1 CPE credit
PM5361 Bioethics and Pastoral Care
BC5430 Death and Dying
BC5436 Diagnosis and Treatment of Trauma Disorders

Corporate Chaplain

Students seeking corporate chaplaincy positions should consider connecting with the Corporate Chaplains of America (CCA) to seek out internship and employment.
EML5325 Legal & Financial Issues in Ministry
EML5330 Personal and Organizational Leadership Development
BC5280 Group Counseling
PM5301 Pastoral Theology and Leadership

Arts and Culture Chaplain

MW5101 The Art of Media and Worship
MW5103 A Christian View of Art
MW5201 Medieval Art and Spirituality

Marriage and Family

BC5270 Family Systems
BC5280 Group Counseling
BC5422 Marital Counseling
BC5601 Human Sexuality

Military Chaplain

Students seeking military chaplaincy positions should contact the branch of service in which they want to serve and seek guidance from a local chaplain recruiter. Students must also receive ordination or similar endorsement from their denomination. Those students who attend Military Chaplaincy School may transfer in up to 9 hours of credit. Navy Chaplains must complete 2/3 of their degree program in residency. Please confirm all requirements with your desired branch of service.
Internship – 3 hours
Military Chaplaincy School – up to 9 hours
BC5430 Death and Dying

Campus Chaplain

PM5301 Pastoral Theology and Leadership
EML5101 Introduction to Educational Ministries and Leadership
EML5430 Strategies for Youth and Young Adult Ministries
WM5205 Cultural Dynamics in Ministry

Life Coach/Spiritual Director

BC5233 Introduction to Christian Mentoring and Coaching
PM5520/EML5740 Spiritual Formation in Contemporary Culture
EML5750 Spiritual Disciplines
BC5255 Addictions and Compulsive Behaviors