Training Men and Women to Become
Immersed in Scripture
Enamored with Jesus
Equipped for the Church
Degree Programs
The goal of our degrees is to saturate you in Scripture and enamor you with the beauty of Jesus so that you become marked as a herald of the Gospel to a world in need. Degrees »
The Gospel Story through
All 66 Books of the Bible
Every professional ministry degree at DTS includes a core of 20 hours in Biblical studies and 18 hours in theology, which is more hours than almost any other seminaries. That means you get to study every book of the Bible (including Obadiah!) and you get an entire semester devoted to studying God as Trinity, giving you the depth and preparation you need for a lifetime of faithful ministry.
Our Community
A diverse community of men and women from nearly every country and state gathered together
to make God's name great and equip his church for the proclamation of his word.
70+
denominations represented, adhering to a common faith
2,400+
students enrolled at 8 locations and online
16,000+
alumni from over 100 countries serving around the world
1
God in three persons
eternal and glorious
Tuition & Scholarships
Seminary training is a great sacrifice of time and money, but through the generosity of our donors DTS students receive millions of dollars of scholarships every year.
90% of students
graduate without taking on additional debt
Tuition & Fees »
$3.0 million
in scholarships available to students
Search 165 Scholarships »
November 1
application deadline for spring 2019
Apply for Scholarships »
Welcome to Texas
Texas is the fastest growing state in the country, and Dallas has been ranked the #1 city in America for business growth three years in a row. We'd love to help you find a job or a church to get you started.
Walkable, family-friendly campus
Largest arts district in the U.S.
More restaurants per capita than any city in the U.S.
Online Education
DTS offers three fully online programs (MBTS, MACS, and CGS), and up to 2/3 of our ministry degrees can be completed online.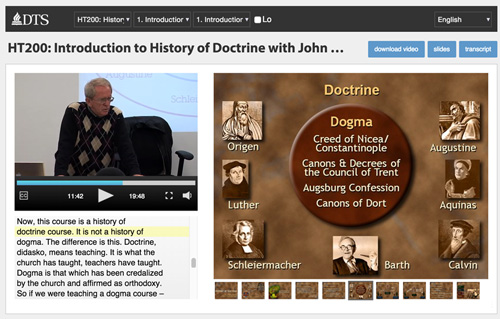 View all online courses.
Stories
More than 15,000 alumni have gone out from DTS to make disciples as pastors, counselors, teachers, administrators, lawyers, mothers, fathers, and businesspeople.
Kyle Sponaugle's Unique Ministry at the US Naval Academy
Dr. Ted Kitchens Leads Christ Chapel in Fort Worth
Christian Radio Host Rebecca Carrell enrolls at DTS
Learn in Context
DTS offers students several chances to travel with professors and fellow students
to learn theology and culture up close.
Walk Where Jesus Walked
Every summer students have the chance to earn credit while traveling with DTS faculty to see the major sites in the biblical story.
SXSW: Theology and Culture
At the annual South by Southwest Conference, students and professors study film, contemporary art, and interactive media. They see the wonder of the image of God, the painfulness of sin, and the need for the Gospel.
Campus Information
Housing
The Dallas campus has affordable housing facilities for families and for single students to live and learn.
Dallas area apartments and roommates
Financial Aid
Through the generosity of our donors, 90% of DTS students graduate without taking on any additional debt for seminary.
Additional Information
If you have any questions about your specific situation, please give us a call or email.
Join Us
If you want to find out more about beginning your seminary journey, please contact us today.